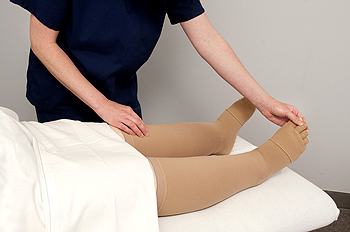 Lymphedema is a common condition that can be caused by removal of the lymph nodes or a blockage in the lymphatic system. Lymphedema causes swelling in the arms or legs, which results in pain or discomfort. Other symptoms associated with this condition are a feeling of heaviness or tightness, limited range of motion, aching, consistent infections, and hardening or thickening of the skin. The swelling can range from mild to more severe. In more severe cases, there will be a noticeable change in the size of the limb, and it will be hard to properly use that limb.
There are ways to help alleviate symptoms, such as exercise, massaging, or compression. Closed toed shoes are also helpful for maintaining balance and reducing swelling. A healthy body weight can also greatly benefit this condition and makes managing the swelling easier. Keeping the swollen leg or arm elevated and avoiding injury are key in protecting the limb. For those with lymphedema, it's essential to regularly check for blisters or cuts because these small afflictions could lead to infection. A serious bacterial infection in the skin or an infection of the lymph vessels might occur, which could easily lead to unwanted complications.
It is necessary to seek treatment for lymphedema and to actively manage the symptoms because without treatment it will continue to get worse. If you notice continual swelling, then it is a good idea to seek the help of a medical professional.